Advanced Disposal
Added to doxo by a doxo user.
Work for Advanced Disposal?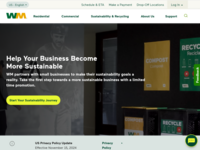 www.advanceddisposal.com
Homepage:

Services:

Industry Groups:
Get Directions / View Map
Advanced Disposal is on the most doxo Lists in these areas:
Rochester, MN

Valdosta, GA

Richmond, KY
doxo Users with Advanced Disposal on their doxo List also list:
Do you work for Advanced Disposal?
Your customers have added your business to their doxo List. doxo is their digital file cabinet for organizing and managing all their accounts in one place. Join doxo to Connect with your customers.